Our classic 18m² rooms, with a zen and soothing design, offer a beautiful unobstructed view of the park and the church.
Everything for your comfort
The rooms have a functional office, a plasma screen including Canal+ and sports channels as well as an ecological temperature control system. They have a pleasant relaxation area with a bench seat with orange-coloured tips installed on a bow window or near a large bay window.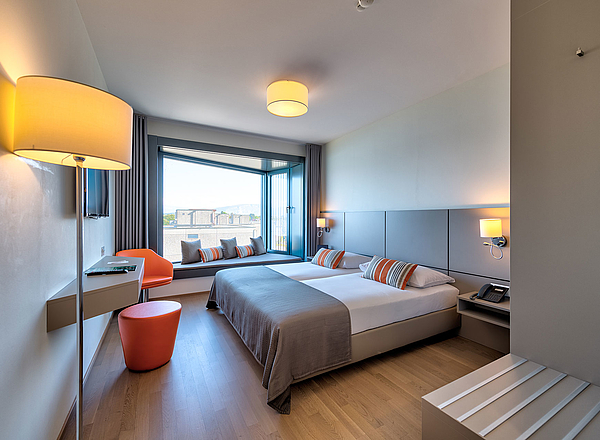 Superior Rooms
All our 20m² superior rooms have an unobstructed view of Lake Geneva, Mont Blanc and the mountain ranges thanks to a unique architectural element: a window that projects onto the hotel's facade (bow-window), or a large bay window.
Deluxe Room
All our deluxe rooms of 25m² benefit from a plunging and breathtaking view over Lake Geneva, the mountains and the Alps thanks to a large bay window.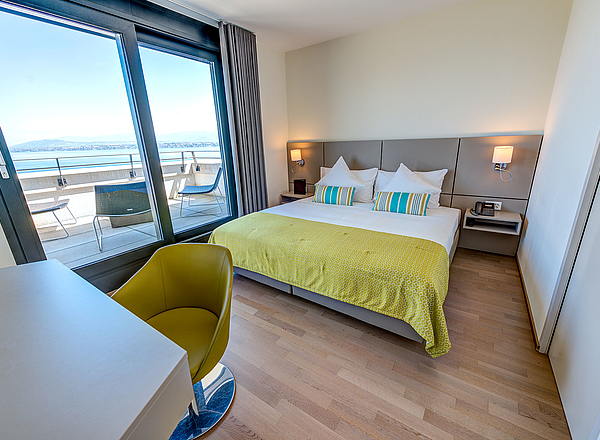 Family Suite
Facing the lake and located on the top floor, our two 35m² Family Suites enjoy a unique panoramic view of Lake Geneva thanks to a large bay window and a magnificent private terrace of 17m² allowing you to fully enjoy the landscape.